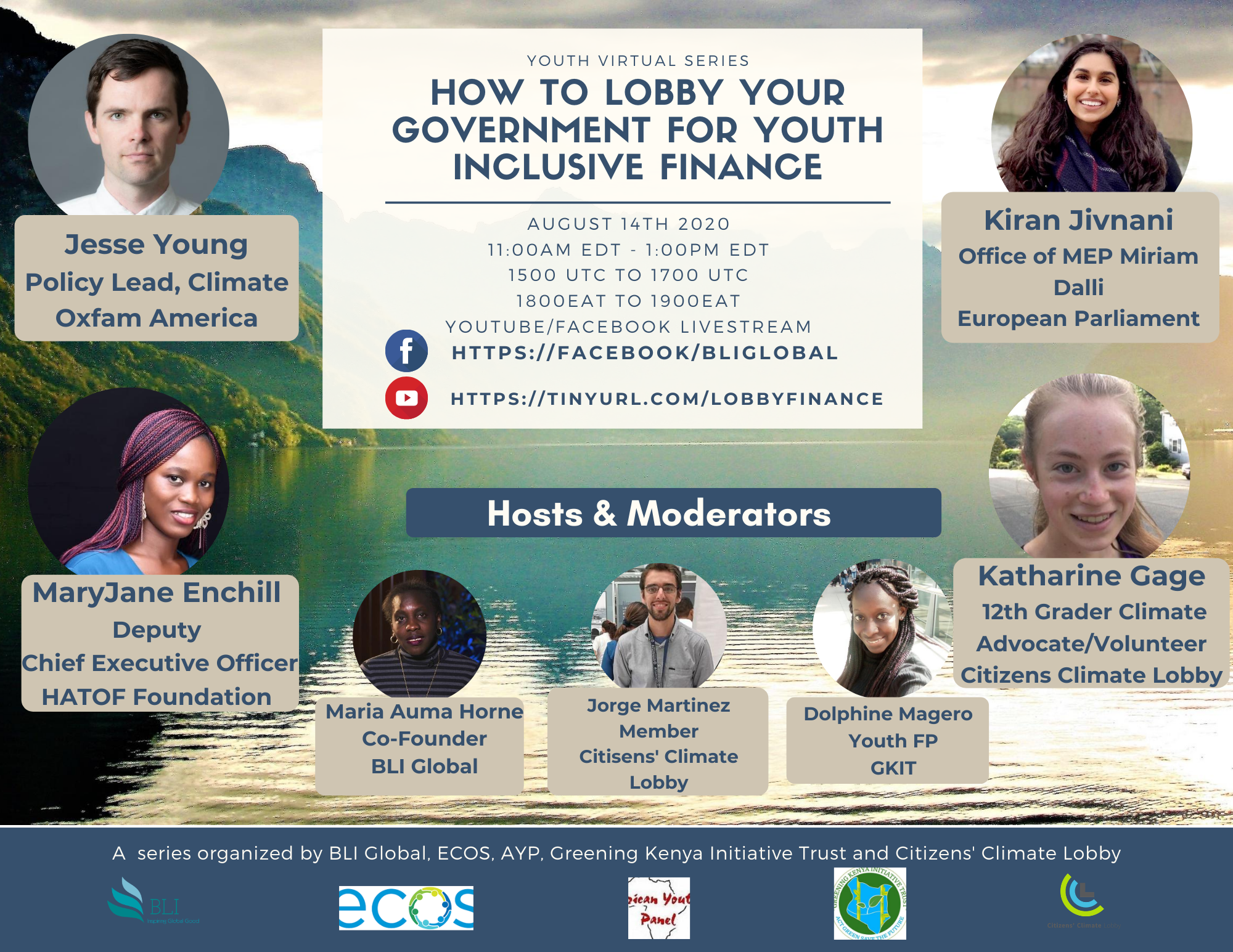 Youth, Lobbying and Inclusive Finance
Greetings!
Firstly, we apologize for failing to send out the information prior to the fourth session on "Linking Climate Finance to Article 6". We had a very interactive session with the speakers who included:
Peter O.Odhengo – Program Coordinator (FLLCOA/GCF NDA Kenya)
Dr. Sandra Guzmán – Global Agenda Coordinator (GFLAC/Consultant UNFCCC)
Antoine Diermert – Director (IETA/ICROA & Voluntary Markets Geneva)
Olufunso Somorin – Regional Principal Officer (Africa Development Bank)
For the fifth session, we will be discussing "How To Lobby Your Government for Youth Inclusive Financing". This time, we are not using the presentation format, but more of a live discussion with the speakers each getting a turn to answer questions presented to them. As before, we are hosting this webinar in partnership with Greening Kenya Initiative Trust and Citizens' Climate Lobby. Speakers will share experiences working with governments to push for policy that will positively impact climate change and share advice on how to lobby for youth climate finance.
Join the discussion!
Where: YouTube Live (with a Live Chat), Facebook Live
Date: Friday, August 14th, 2020
Time: 11:00 am EST / 15:00 UTC / 17:00 CET

Virtual Series: Carbon Pricing for a Green Economy
This Friday at 15:00 UTC there will be a virtual discussion on How To Lobby Your Government for Youth Inclusive Finance, the fifth of six webinar series. The session will be live-streamed on YouTube at this link: https://tinyurl.com/LobbyFinance and on our Facebook page
Who are the Speakers:
Jesse Young – Policy Lead Climate (Oxfam America)
Jesse Young is a climate change policy lead at Oxfam America, a global anti-poverty non-profit, where he focuses on global multilateral engagement on climate issues. He previously served as a senior advisor in the office of the Special Envoy for Climate Change at the U.S. State Department, where he was part of the team that helped negotiate the Paris Agreement on climate change in 2015. Prior to that, he worked as a senior policy advisor to U.S. Senator Chris Murphy (CT), where he focused on the environment, energy, and transportation issues, as well as speechwriting. He holds a master's degree in global policy from Johns Hopkins University's School of Advanced International Studies (SAIS).
Kiran Jivnani – Accredited Personal Assistant (Office of MEP Miriam Dalli – European Parliament)
Kiran Jivnani graduated from Northeastern University with a B.A Hon in Criminal Justice along with minors in Law and Public Policy and International Affairs.
Upon graduation, she worked with the Millennium Campus Network as the program coordinator for the United Nations Academic Impact and MCN Millennium Fellowship. As an alumna, Kiran had valuable insight on how to facilitate the Fellowship. In this role, she managed student leaders from around the world by offering mentorship on SDG-based projects and general project management support. She further expanded organizational impact by creating the MCN Blog Page and documenting Millennium Fellowship projects that have created momentous levels of positive social change.
Working with the Millennium Fellowship made Kiran realize her interest. in policy work, particularly climate action policy. In January 2020 she joined the office of Member of European Parliament (MEP) Miriam Dalli as a trainee. In March 2020, she was promoted to the role of Accredited Parliamentary Assistant for MEP Dalli. Kiran currently works for MEP Miriam Dalli on issues related to the European Parliament ENVI Committee (Environment, Public Health and Food Safety) and ITRE Committee (Industry, Research and Energy. She firmly believes that climate change is impacting every other major problem area that our world faces and thus has made this policy area her primary one. She hopes to continue working on climate change policy in the future and gain further opportunities to publish her research and thoughts on this topic in the near future.
Outside of advocacy and policy work, Kiran has varying interests. She loves to travel and has explored over 20 countries.
Katharine Gage – 12th Grader Climate Advocate/Volunteer (Citizens' Climate Lobby – New Hampshire Chapter)
Katharine Gage is a rising 12th grader from New Hampshire. She has been a volunteer of Citizens' Climate Lobby for four years, where she works on building the political will for a national carbon fee and dividend to address climate change. This includes lobbying her members of Congress, writing for newspapers, co-leading a youth chapter, and collecting endorsements of the bill from local businesses and political leaders. She is also a competitive Nordic skier and loves New England winters.
MaryJane Enchill – Deputy Chief Officer (Hatof Foundation)
MaryJane Enchill is a professional journalist and environmentalist, with 10 years experience in environmental protection, and broader environmental governance and climate policy processes. She is currently Deputy Chief Executive Officer of HATOF Foundation, the Assistant Country Coordinator of Climate Action Network-Ghana, and National Coordinator, Ghana Youth Biodiversity Network. Ms. Enchill has substantial experience in multilateral finance, and intergovernmental processes that respectively span across the GEF, GCF, CIF, and CBD, UNCCD, and UNFCCC. She supported the development of Ghana's NDC, National Climate Change Policy, National Communications, and Biennial Update Reports. She also supports public and private sector institutions and NGOs to plan, access, and deliver a variety of multilateral funds to address national environmental challenges.