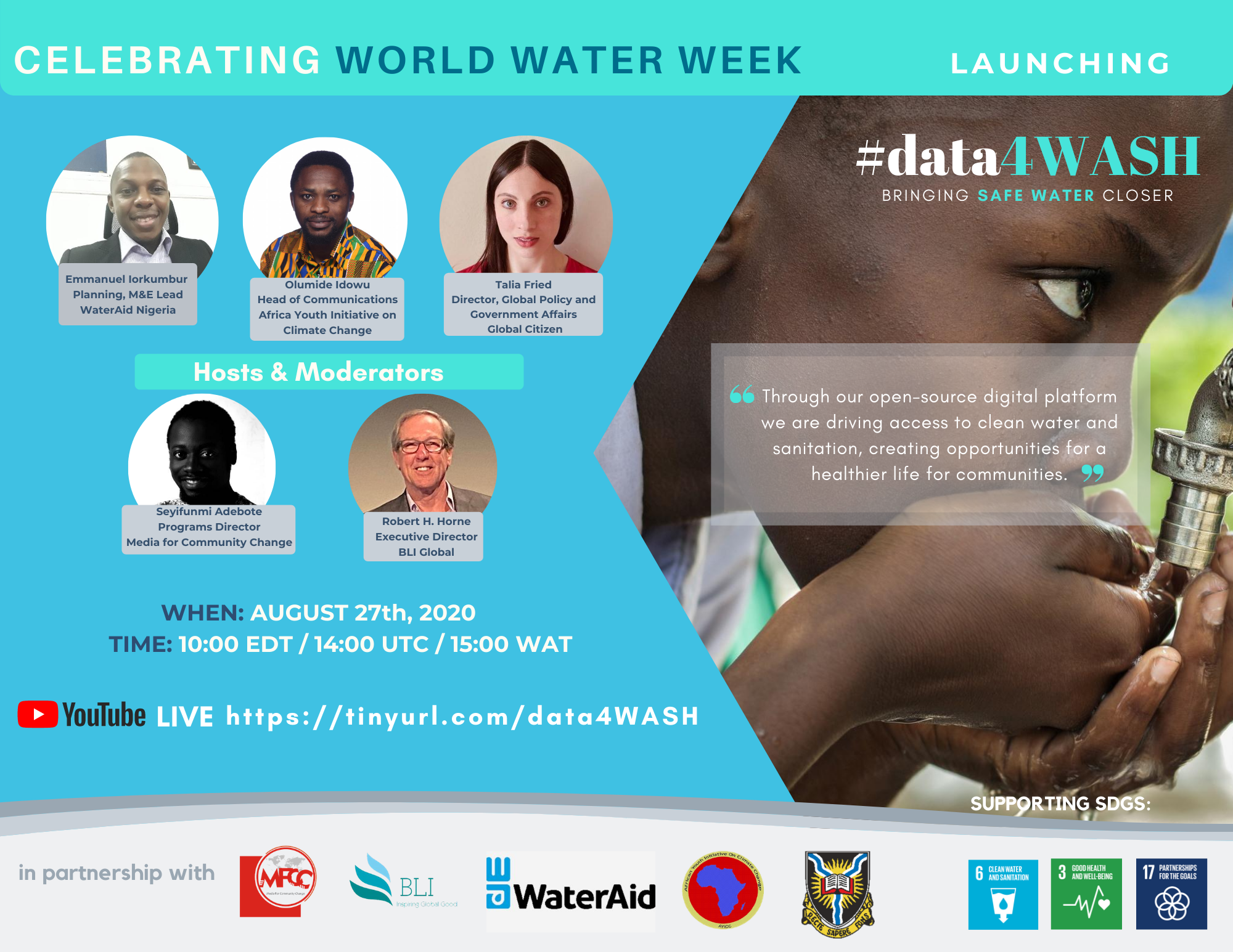 In an effort to leverage technology as a tool for development, Media for Community Change, a non-governmental organization based in Abuja, Nigeria is partnering with US-based NGO, BLI Global to launch Data4WASH on Thursday, August 27, 2020. The web-based interactive online platform has been designed for open source use and is designed to highlight areas in need of water improvement facilities while showcasing areas that have achieved improved wastewater treatment practices.

The platform will aggregate verified data generated and mapped with GPS coordinates to create a WASH map used to make a case for driving investment into the design and installation of proper WASH facilities in communities experiencing water poverty across the world.

Speaking ahead of the launch, the CEO, Jimoh Oluwatobi Segun described the platform as the one that would highlight areas in need of water improvement facilities while showcasing areas that have achieved improved wastewater treatment practices.

The purpose of the platform is to identify through generated community-driven data, areas of water stress, and poor sanitation in developing countries with Nigeria as a pilot. These will be juxtaposed in an interactive map with areas in developed countries practicing proper water and sanitation to serve as best practices. Our objective is to raise investment into developing proper water and waste treatment facilities and sanitation facilities in the rural communities/cities in developing countries as submitted through verifiable data by community members.
Explaining what inspired the Data4WASH portal, Maria Auma Horne, Co-founder and CEO BLI Global said that the platform will be a great way to drive financial and technical support to communities in Nigeria and gradually other communities in developing countries that are in dire need of improved sanitation facilities and access to clean and safe drinking water. She also commended the University of Ibadan, Oyo State, Nigeria for their commitment to engaging their final year students of the Department of Statistics in the data collection process. This project also offers students a continuous opportunity to practically interpret data and harness technology to improve development.

Expected at the virtual launch of the Data4WASH portal include Talia Fried, the Director, Global Policy & Government Affairs of Global Citizen who is expected to share how Global Citizen is engaging in the WASH sector; Emmanuel Iorkumbur, the Planning, Monitoring and Evaluation Officer of WaterAid Nigeria will share a few words during the launch to give insight into WaterAid's work in the WASH sector and why it is vital in this trying time; Kassim Gawusu-Toure, the Executive Coordinator of African Youth Initiative on Climate Change – one of Africa's largest youth coalition on Climate Change also applauded the innovation and pledge to support by sharing with her over 5000 members.
'Seyifunmi Adebote,
Programs Director, Media for Community Change.
Join the live-stream launch below.