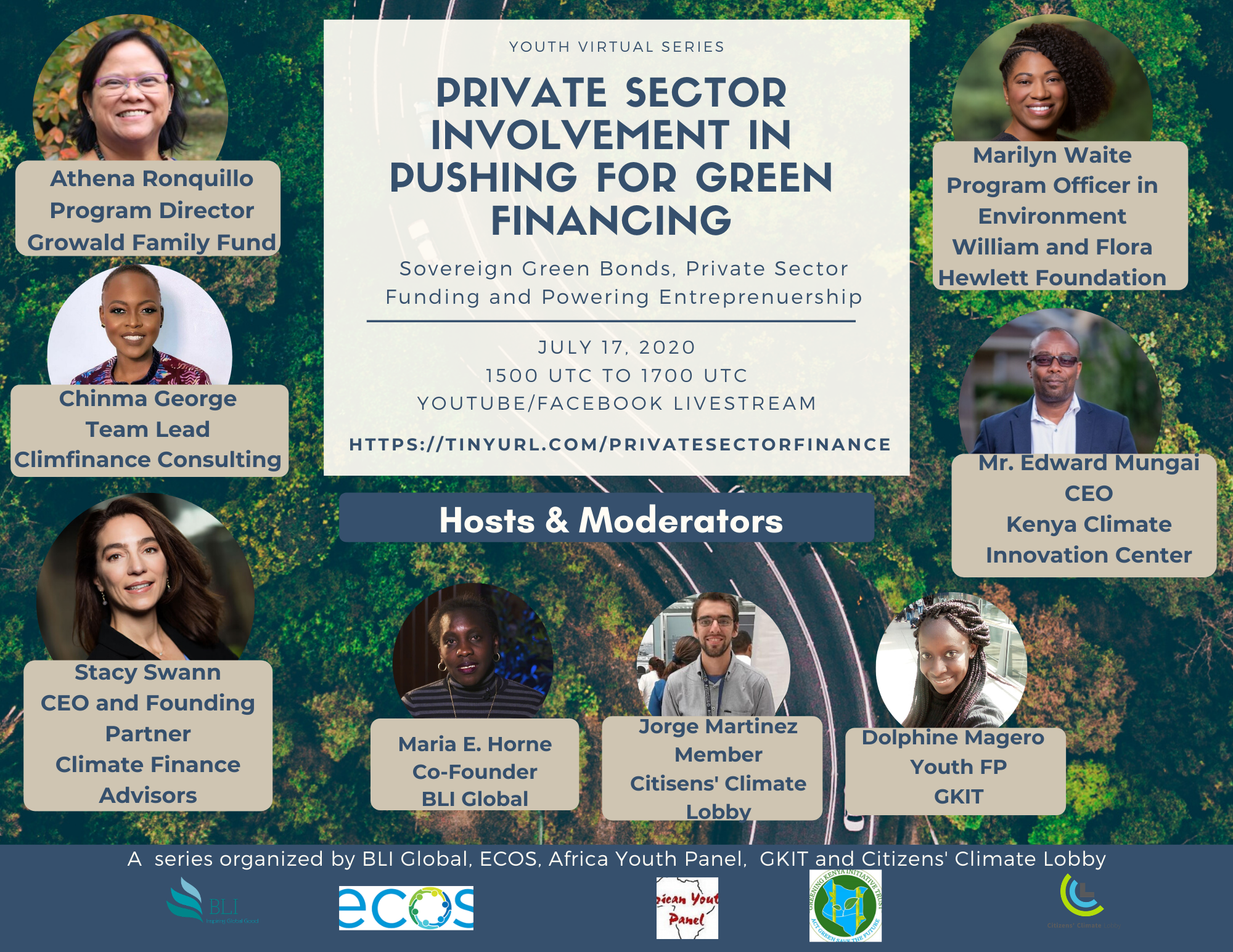 Show me the Money!
Welcome to the third session of our virtual series on Climate Finance and Carbon Pricing hosted in collaboration with Africa Youth Panel and Citizens' Climate Lobby. In this livestream, a diverse panel of experts and practitioners in the field of financing climate action and funds management will delve into the available financing mechanisms under the UNFCCC as well as practical financing mechanisms employed to back green projects.
Join the discussion!
Where: YouTube Live (with a Live Chat)
Date: Friday July 17th 2020
Time: 11:00 am EST / 15:00 UTC / 17:00 CET
Virtual Series: Carbon Pricing for a Green Economy
This Friday at 15:00 UTC there will be a virtual discussion on Private Sector Involvement in Pushing for Green Financing, the second of six webinar series. The session will be live-streamed on YouTube at this link: https://tinyurl.com/PrivateSectorFinance and on our Facebook page
Who are the Speakers:
Edward Mungai (CEO, Kenya Climate Innovation Center):

Mr. Edward Mungai is the Chief Executive Officer of the Kenya Climate Innovation Center (CIC). The CIC supports a holistic country driven approach to accelerate the development, deployment and transfer of locally relevant climate technologies to the private sector.
Mr. Mungai has a multifaceted background in business advisory, financing, entrepreneurship, and investment management, based on his experience working with the Danish International Investment Funds (IFU) as an Investment Manager in Copenhagen, Denmark and as the head of the East Africa regional office for IFU. Prior to joining IFU he was a manager at KPMG East Africa and responsible for Corporate finance and transactions services. He has thorough experience in development financing mechanisms for SMEs, with special interests in the agribusiness, renewable energy, green infrastructure and water and sanitation sectors. In addition, Mr. Mungai is a sustainability evangelist with interests in green economies as well as the sustainable development goals with focus on the promise for better livelihood in Africa. Mr Mungai holds an Executive MBA from the Scandinavian International Management Institute/Copenhagen Business School and a Business Management degree from Moi University, Kenya. He is an Eisenhower Fellow (2016)


Marilyn Waite (Program Officer – William and Flora Hewlett Foundation):
Marilyn Waite is a Program Officer in Environment at the William and Flora Hewlett Foundation. Marilyn manages the foundation's grantmaking on climate and clean energy finance with the ambitious goal of addressing climate change by accelerating the transition to a climate-friendly economy. Her grantmaking mobilizes private capital investments in low-carbon and climate-friendly energy infrastructure and systems, seeking to redirect finance from high- to low-carbon activities and encourage wiser energy investments. A key component to this work includes assessing climate finance flows, identifying ways to lower the cost and risk of investment, and supporting innovations in capital markets to address investor requirements for clean energy and climate-aligned projects.
Marilyn has worked across four continents in venture investment, startups, and low-carbon energy. She previously led the clean energy practice at Village Capital, where she sourced and performed due diligence for early-stage startups solving energy challenges and built a network of 1,000-plus clean tech entrepreneurs, investors, corporations, and government stakeholders. As a senior research fellow at Project Drawdown, she modeled and forecasted energy solutions to climate change. Marilyn led several operational and research and development projects at AREVA in France, including performing technical and economic studies in the energy-water nexus and the nuclear energy cycle.
Author of Sustainability at Work, Marilyn serves on the board of directors for the Biomimicry  Institute and lectures on sustainable business at the University of International Business and Economics in Beijing. She is an E2 1 Hotels Fellow, and as such, her work and writing highlights opportunities in women-led, green economy startups throughout the country. She holds a bachelor's of science degree in civil and environmental engineering, magna cum laude, from Princeton University and a master's degree with distinction in engineering for sustainable development from the University of Cambridge.

Athena Ronquillo (Program Director – Growald Family Fund):
Athena is director of programs and leads the development and implementation of the Growald Family Fund's climate finance, energy transition and furthering the field initiatives. Prior to joining the fund, Athena was Director of World Resources Institute's Center for Sustainable Finance for nine years, where she led the program focused on shifting finance away from unsustainable activities towards low-carbon climate resilient development through data-driven and policy-actionable research. Athena is on the board of the Institute for Climate and Sustainable Cities (IcSC) in the Philippines, International Rivers, Action Aid USA and Boston University's Global Environmental Governance Initiative (GEGI). She is also one of the policy advisors to the China Council for International Development (CCICED).
Athena has over 15 years of leadership and management experience in environment, development, and natural resource governance in developing countries with a particular focus on climate change, clean energy, and sustainable finance. She is a long-time policy advisor to the Philippine government's official climate change negotiating team at the UN Framework Convention on Climate Change (UNFCCC).
She holds a Global Master of Arts from the Fletcher School of Law and Diplomacy at Tufts University and bachelors and post-graduate degrees from the University of the Philippines and the Asian Institute of Management. Athena is from the Philippines and currently resides in Maryland with her husband and three young adults.

Stacy Swann (CEO and Founding Partner – Climate Finance Advisors):
Stacy Swann is the CEO and Founding Partner of Climate Finance Advisors.  Ms. Swann has more than two decades of experience in finance, fund management and development, including with the International Finance Corporation (IFC) where she was Head of IFC's Blended Finance Unit and was responsible for managing and investing more than $750 million in donor funding for climate-smart investments. While at IFC, she also supported World Bank Group efforts to work with policy makers and other financial institutions on issues related to blended finance, climate finance, climate-smart fiscal policies and incorporating practical policy and investment approaches to managing climate risk.  Prior to joining the World Bank Group, she worked in the private sector as a developer of infrastructure projects in India and Singapore.In addition to running Climate Finance Advisors, Ms. Swann is currently Vice-Chairperson of the Board for the Montgomery County Green Bank, the United States' first county-level green bank, and she sits on the Board of the Women's Council on Energy and Environment (WCEE).  She also helped establish the Global Adaptation and Resilience Investment (GARI) working group which has convened over 150 private investors and other stakeholders to discuss practical approaches to adaptation and resilience investment.  In connection with Climate Finance Advisor's work on climate risk and resilience, she is also interim Executive Director of the Climate Risk & Resilience Institute, a non-profit focused on advancing the understanding of climate risk with financial institutions, community banks and others through climate-risk education and knowledge products that can in turn catalyze climate-resilient financing.
Stacy holds an MBA in Finance and Development from American University, a Master's Degree from Harvard University and a BA from City University of New York – Hunter College.
Chinma George (Team Lead – ClimFinance Consulting):
Chinma George is an environmental and climate change expert with experience working with international organizations and governments such as, UNECA, Free University Berlin and the Nigerian Parliamentarians. She is the Team lead at Climfinance Consulting a knowledge think tank that conducts research on climate change in Africa and proffers solutions on how to better assess climate finance. Ms. George has consulted on climate finance for the elaboration of the book 'Africa's Journey in the UNFCCC Negotiations' with the African Climate Policy Centre, UN Economic Commission Africa. She also contributed a chapter in the 'Climate Change in Africa' book in collaboration with Free University Berlin. Chinma has spoken at several UN and AU meetings and conferences on climate finance and climate change.
Program: July 17th 2020 11:00 EST/ 15:00 UTC/ 17:00 CET
Time (EDT)
Theme
Speaker/Moderator
Status
11:00 – 11:02
Welcome notes and introduction of the session
Co-Hosts
11:02 – 11:05
Brief intro of the speakers background and area of expertise
Dolphine Magero
11:05 – 11:20
Financing Entrepreneurship: Challenges and opportunities in incubating and accelerating innovations in Kenya
Edward Mungai
Chief Executive Officer
Kenya Climate Innovation Center
confirmed
11:20 – 11:25
Q and A
Jorge Martinez
11:25 – 11:40
Mobilizing capital for climate solutions: Investing and deploying finance strategies towards innovative climate solutions
Marilyn Waite
Program Officer in Environment
William and Flora Hewlett Foundation
confirmed
11:40 – 11:45
Q and A
Dolphine Magero
11:45 – 12:00
Backing Green Innovation: Using venture philanthropy to accelerate climate action and a clean energy transition
Athena Ronquillo
Program Director
Growald Family Fund
confirmed
12:00 – 12:05
Q and A
Jorge Martinez
12:05 – 12:20
Blended Finance: Leveraging private and public investment in the wake of climate risks
Stacy Swann
CEO and Founding Partner
Climate Finance Advisors
confirmed
12:20 – 12:25
Q and A
Maria Horne
12:25 – 12:40
Green Bonds: How green bonds can be used as financing instruments to invest in climate smart projects
Chinma George
Team Lead
ClimFinance Consulting
confirmed
12:40 -12:45
Q and A
Dolphine Magero
12:45 – 1:00
Final Q and A and closing remarks
Co-Hosts
Program Schedule for the Webinars