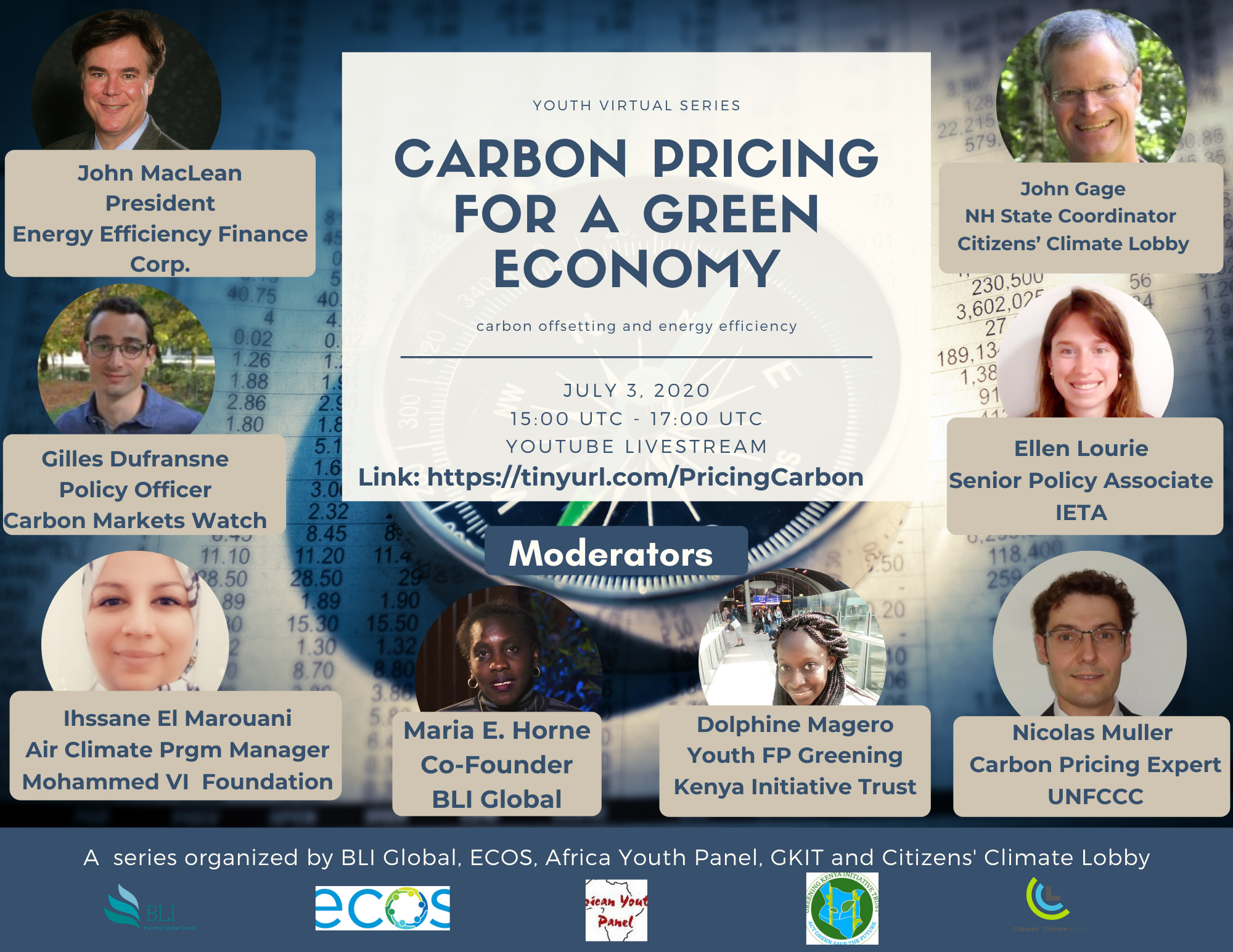 BLI Global, ECOS, Greening Kenya Initiative Trust, Africa Youth Panel and Citizens' Climate Lobby is excited to initiate a three months virtual series, featuring practitioners and experts from around the world who will be sharing their experience navigating financing at the grassroots level and advocating for increased support for policies focused on growing a green economy. The first session can be accessed here:
The second session is a discussion with a diverse panel of experts and practitioners on the issue of carbon pricing and energy efficiency. Speakers will delve into the benefits of implementing emissions reduction projects and how to finance energy efficiency.
Join the livestream here at 11:00 am EDT on Friday 3rd, July 2020:
Who are the Speakers:
Gilles Dufranse – Carbon Markets Watch
Gilles leads advocacy campaigns around international carbon market negotiations at the UN. He also follows developments around the EU Emissions Trading System and private sector offsetting initiatives. Carbon Market Watch is an NGO campaigning for fair and effective carbon pricing around the world.
Ellen Lourie is the Senior Policy Associate at the International Emissions Trading Association (IETA). On behalf of IETA's global multi-sector business membership, Ellen supports efforts to inform climate change policy and carbon market design with government and non-government partners across Canada and the Americas. Before starting with IETA, Ellen completed her MSc in Climate Change, Development and Policy at the University of Sussex, UK. In between studies Ellen was Social Impact Advisor at ecobee, one of the world's largest smart thermostat companies, and worked on energy efficiency and mercury reduction programs for Summerhill Group, an environmental consultancy.
John Gage – Citizens' Climate Lobby
John Gage has a B.S. degree in Biology from Boston College and worked on business system integrations at Sun Microsystems and Oracle for three decades. After joining Citizens Climate Lobby in May 2016 as a volunteer to help create the political will for effective bipartisan climate solutions, he co-founded and now leads CCL's New Hampshire South Central chapter and is CCL's state coordinator for New Hampshire. He paused his career last year to volunteer full-time with CCL, and recently helped co-found the New Hampshire Carbon Cash-Back Coalition. Fully embracing CCL's personal development mission, John will try anything (with respect and appreciation) to help create the political will to enable Congress to enact Carbon Fee and Dividend legislation.
John MacLean – Energy Efficiency Finance Corporation
John MacLean has worked in energy efficiency and renewable energy project finance, both grid-connected and rural/off-grid, and both doing commercial transactions and also designing and setting up development finance programs internationally with clients like World Bank, UN Environment Program and the Green Climate Fund. His background is investment banking in municipal and project finance for energy and environmental projects. John has 36 years commercial finance experience with a wide range of investment structures for senior debt, municipal bond, leasing, factoring, subordinated debt, guarantees, project equity and corporate equity transactions and has worked on financing energy efficiency projects and companies throughout his career. His clients have included commercial and development financial institutions, energy services companies, utilities, public agencies and state and local governments on project development, procurement and finance assignments.
Nicolas Muller – Carbon Pricing and Mitigation Policy Expert , UNFCCC
Nicolas Muller is an Associate Programme Officer at the UNFCCC Secretariat. As technical expert for the workstream "Collaborative Instruments for Ambition Climate Action"(Ci-ACA), he supports jurisdictions around the world on the topic of carbon pricing. His 12 years of professional experience in mitigation action include key achievements such as creating the concept of standardized baselines and reforming the EU Emission Trading Scheme (EU ETS). Nicolas holds an MSC in Energy Conversion and Management from the University of Applied Science in Offenburg, Germany
Ihssane El Marouani – Manager of the Air Climate Programme, Mohammed VI Foundation