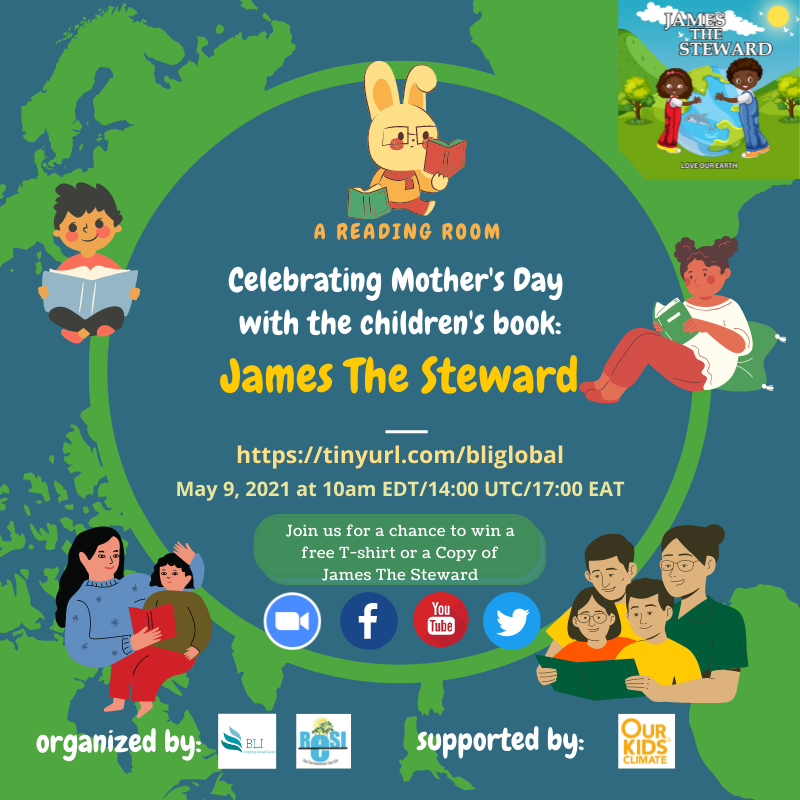 On Sunday, May 9th, 2021, the world celebrated Mother's Day. BLI Global and RESI with support from Our Kids Climate commemorated this day in a special manner. But first, we want to thank all mothers everywhere who make it their mission to take care of their children. We also acknowledge motherhood, mothering, and everyone regardless of gender or age that takes up the responsibility of being a mother.
Thank You, Namaste, Merci Beaucoup, Danke Schone, Asante Sana, Webale Nnyo, Webale Munonga, Afwoyo Mada, Spasibo, Xiexie ni.
And while mothers were getting pampered and treated with care, we took our celebration virtual by not only acknowledging mothers of children but also mother earth. Our journey took us into storyland with James The Steward, a book that BLI Global and RESI incubated in 2018. We traveled with James and Sarah on a journey to understand how children can take action to protect the environment and care for nature. 
The reading room comprised mothers, children, and well-wishers who were keen to hear the book read out. We had four readers from four parts of the world take turns reading out loud to the audience and it reminded us of the importance of storytelling for change, and the impact that this can have on improving behaviors among the next generation. We started in Mexico, skirted through America, visited India, and finally arrived in Uganda, where the actual story took place. In a small village in Bududa.
With each stop, we took a break to discuss the different scenes in the book and how they compare to challenges faced by other people around the world. We also learned a lot from one of the young participants on the call about the need to recycle and how to incentivize youth to recycle.
 
Finally, the book ended on a positive note with James and Sarah becoming Stewards of the Earth and advocating within their school for the need to take climate action. We are also rewarding the two young stars of the event from India and Mexico with surprise gifts that will be on their way in the coming few days.
Thank you Our Kids Climate for helping us share this special moment with families around the world. Thank you for enabling us to promote climate literacy and storytime for parents and children. There is a meaningful sustainable impact when we work together with the very unit of society, family.
The book can be purchased at: https://www.amazon.com/dp/B087L4LHBS (purchasing this book helps us create more series and distribute the book for free in less developed countries around the world) and the recorded reading room is available on YouTube for every family to watch.
Stay Hopeful, Be Compassionate,
The BLI Global Family
Inspiring Global Good

Spoiler Alert: We will be hosting a second reading room on Father's Day. If you are interested to participate, kindly register on the following link: www.tinyurl.com/bliglobal